Public Speaker - Raanan Adin
Global conferences and events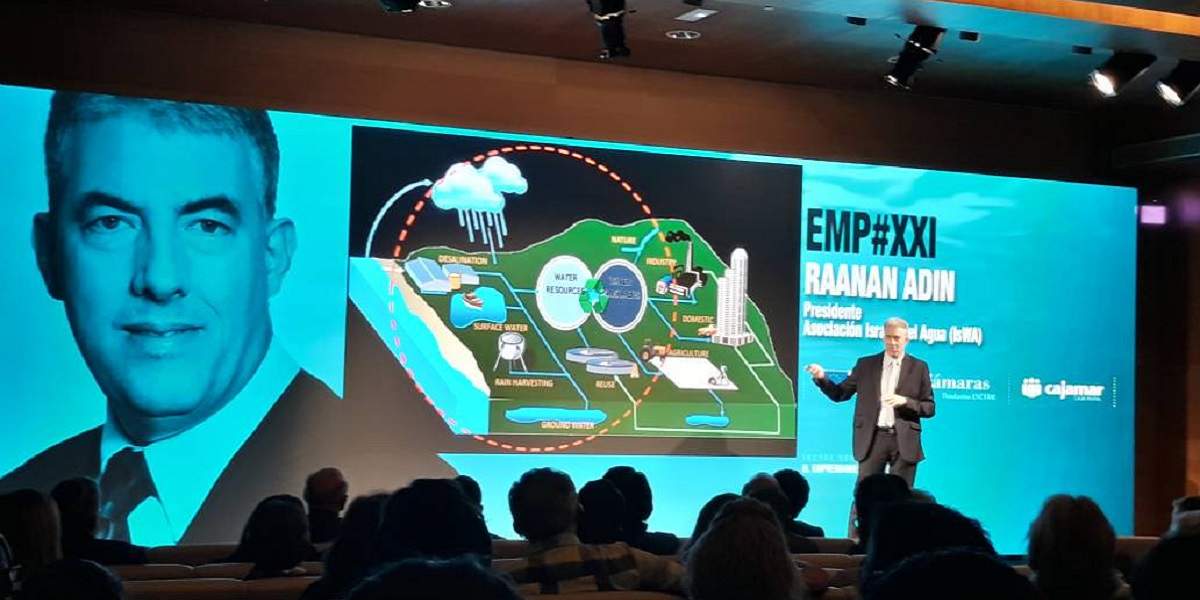 Israel - the evolution of an oasis​
A small semi-arid country in the middle east, with over 60% of its area marked as desert, only one small fresh water lake and no large rivers, succeeded in developing an advanced water sector capable of supplying high quality healthy drinking water to all its population 24 a day, 365 days a year, treating 100% of urban wastewater and reusing over 85% of it in agriculture irrigation, and supplying significant amounts of water to its neighbors. In his lecture "Israel – the evolution of an oasis" Raanan Adin travels with the audience through key landmarks in the fascinating evolution of Israel's water sector.
Ingredients of success of Israel's water technological industry
Being a small country results in relying on export markets to sustain industry. Though geographically connected to 3 continents – Asia, Africa and Europe, Israel is an economic island because it has negligible commerce with some neighbors and none with the rest. Nevertheless, Israel has a thriving water technology industry, continuously bringing new products and services to global markets. With over 30 years of experience in Israel's hi-tech, defense and water sectors, Raanan Adin uncovers the ingredients of success empowering Israel's water technology industry – Encouraging innovation is only one of them.
Water Trinity:
Research-Governance-Technology
Technology is definitely the driver in advancing the water sector ! Isn't it? Well, in 1854 it was research that led physician John Snow to discover water's role in spreading cholera in London; and in 1956 policymakers set Israel's water law determining all water belongs to all people, thus setting the foundations of holistic water management, while many other countries are still struggling today with private ownership of groundwater and rivers. In this lecture Raanan Adin shows how progress and growth in water sectors are driven by Research, Governance and Technology working together harmoniously.
Raanan Adin presents water challenges and solutions in an exciting and unprecedented way, emphasizing that "technology is a tool, not a target", explaining the Research-Governance-Technology Water Trinity, confronting cross-border water issues and giving hope to water scarce regions. Whether you are in the water sector or not, you will find something new and refreshing in his talks. Well, that's not surprising when over 30 years of experience in executive managerial and technological positions in global hi-tech, defense and environment are blended with co-authoring 7 patents, chairing Israel Water Association, mentoring students and judging youth water innovation competitions.
Global conferences and events
– Keynote, EMP#XXI Forum, Innovative water management models, Murcia, Spain (2020)
– Keynote, 2nd Regional Convention (US-Mexico), National Congress of Civil Engineering, Tijuana, MEXICO (2019)
– Invited speaker, 11th Water Economic Forum, Puebla, MEXICO (2019)
– Keynote, Americas Competitiveness Exchange, Israel Innovation Authority, ISRAEL (2018)
– Keynote, EU-Israel Roundtable, European Parliament, BRUSSELS (2018)
– Keynote, Water Decade opening, United Nations Headquarters, New York (2018)
– Panel member, EarthX Mexico 2018, Mexico City, MEXICO (2018)
– Keynote, Science and Technology Innovation Forum, Anhui, CHINA (2017)
– Keynote, Seoul Rain Festival, National Assembly bldg., SOUTH KOREA (2016)
– Panel member, ANEAS 2015 annual convention, Chihuahua, MEXICO (2015)
– Keynote, WATEC promotion tour, Accra, GHANA, Abuja, NIGERIA (2015)
– Invited speaker, 4th International Symposium on Energy Challenges and Mechanics, Aberdeen, SCOTLAND (2015)
– Invited speaker, Cleantech Annual Convention and exhibition, ISRAEL (2015)
– Keynote, Round Table, Water Resources Research Center, University of Arizona, USA (2013)
– Keynote, Panel, Trieste Next – European Science Research Forum, Trieste, ITALY (2013)